Neighbor Staff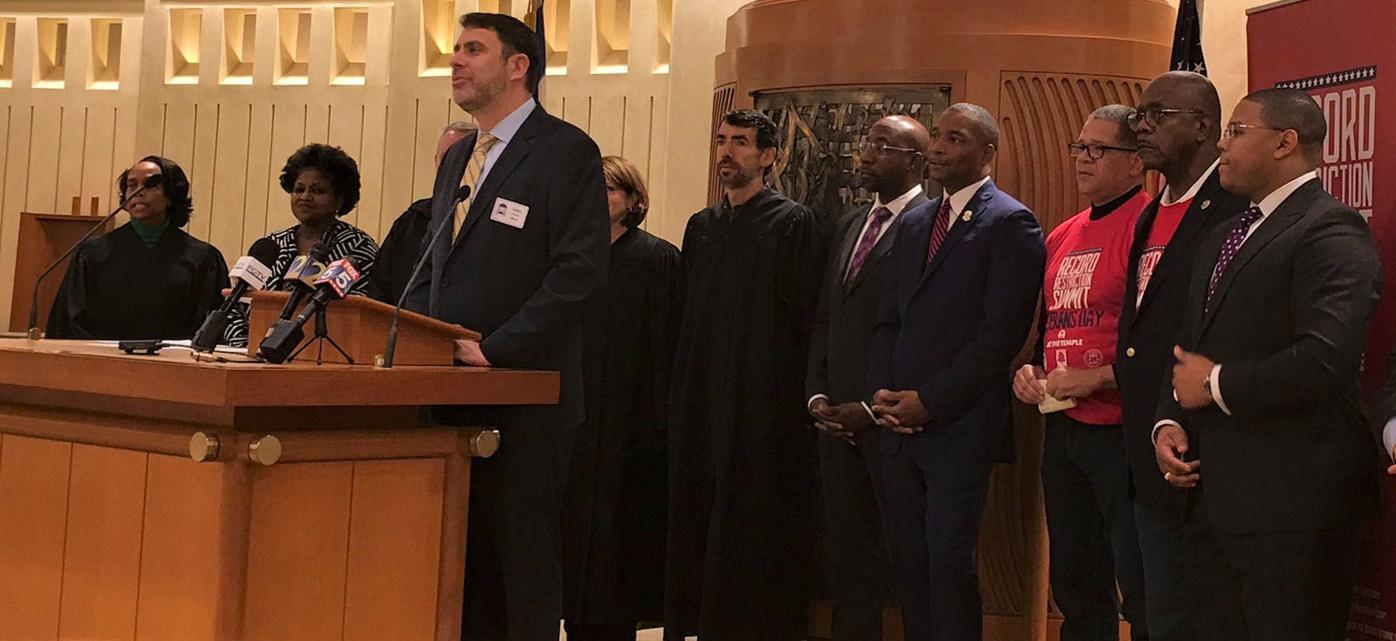 Rabbi Peter Berg speaks to reporters at the Veterans Day Record Restriction Summit at The Temple as others look on. Back from left, Fulton County Magistrate Court Chief Judge Cassandra Kirk; Fulton County Superior Court Chief Judge Robert McBurney; the Rev. Raphael Warnock, pastor of Ebenezer Baptist Church; Fulton County Solicitor General Keith Gammage; John Eaves, chair of The Temple's Rothschild Social Justice Institute's racial justice committee; Fulton County District Attorney Paul Howard Jr. and Kevin Murriel, senior pastor of Cascade United Methodist Church.
Faith leaders, nonprofits and Fulton County government officials worked together to give hundreds of people a second chance Nov. 14, Veterans Day. The Record Restriction Summit, initiated by the Rothschild Social Justice Institute at The Temple in Midtown, provided free criminal record restrictions for hundreds of eligible candidates including veterans.
"Of the many overwhelming concerns that we tackle every day at The Temple, we have identified this singular issue as a top priority — which has both bipartisan support and support from the entire civic and religious community," Rabbi Peter Berg of The Temple said in a news release. "We are here today to face the world head on and to repair that which is broken – our criminal justice system. To see a flaw in the world today is to be obligated by our shared religious traditions to restore balance and harmony."
Former Fulton County Board of Commissioners Chair John Eaves, now the chair of The Temple's Rothschild Social Justice Institute's racial justice committee, agreed.
"Record restriction is not just about criminal justice reform. It also about poverty and homelessness – two important issues detrimental to the health of our community," he said in a news release. "With a clear criminal record, the people here today will not only have the chance to secure better professional, housing and educational opportunities, but they will regain a piece of dignity."
The offices of the Fulton's district attorney, solicitor general and clerk of superior court as well as a team of volunteer attorneys from the Georgia Justice Project worked tirelessly on the back end to process hundreds of record restriction applications in preparation for the event.
All the summit leaders hoped the event would further raise awareness about the opportunities afforded those with restricted records as well as serve as an example for other counties across the nation.
"It is the pen of a prosecutor that holds the power to send a person to the gallows, but it is that same humbling power of a prosecutor's pen that can restrict and erase a record, and with partners, create second chances," Fulton Solicitor General Keith Gammage said in a news release. "I'm asking that the other prosecutors around this state and our nation will join with faith leaders and civic leaders to pursue social justice."
Atlanta resident Jason Pullman was one of the hundreds of people who took advantage of the free summit to have his record restricted.
"It feels like a giant weight has been lifted off of my shoulders," he said in a news release. "There's no reason that this incident (that was dismissed almost eight years ago) was still on my record. This should not impede myself or anyone else from gaining employment, getting pre-TSA or anything else along those lines. What a phenomenal experience!"
District Attorney Paul Howard spoke about efforts outside the summit to pass permanent reform in the Georgia House of Representatives. Legislation formerly known as House Bill 981 would have permanently restricted records for certain convictions. Local justice partners are pushing to reintroduce a similar bill in the 2019 session.
"The record restriction program at The Temple clearly demonstrates a real need for comprehensive records restriction in our state," Howard said in a news release. "Not only should people who were arrested and never formally charged be able to expunge their records, but so, too, should those who were convicted of low-level nonviolent felony and misdemeanor crimes. The purpose of this legislation is to give those folks who are legitimately headed in the proper direction the right not to check the box on job applications, to become employed, and provide for their families."